FESTIVAL UNBOUND
Festival UnBound Sponsors and History
---
An annual hyper-local, arts-infused community celebration and conversation for those who call the Lehigh Valley home.
Its mission is to engage our diverse community through art and civic dialogue in the radical act of envisioning our future together.
---
A BRIEF HISTORY…
In 1998, after an almost 150 year history building this nation, Bethlehem Steel finally shut down steel making here in Bethlehem. It was a traumatic event, and Touchstone, to help the community work its way through it, created and assembled several works of art and cultural projects into a festival called Steel Festival: The Art of an Industry.
In October 2019, twenty years after that extraordinary event, we began to explore questions of a different and perhaps more daunting nature. Who are we, now that the Steel is gone? What are the challenges ahead, and what are the values that will hold the community together as we face the task of shaping our future? Out of these questions came our first year of Festival UnBound, a collection of arts and community dialogue around concerns of diversity, sustainability, health, youth leadership, and interconnectedness. You can recap more of the 2019 festival here.
Over the next three years, the festival continued, furthering the discussion and bringing audiences together in a time when loneliness and isolation were the norm. We welcomed guest artists from across the U.S. and abroad, as well as new and longtime local partners, to dig deeper into the questions at hand. You can revisit 2022's Festival UnBound via the final report here.
Now, in its fifth year, Festival UnBound continues to change what it means to bring a community together and innovate new ideas to move us all in the right direction. Join us, September 27 through October 1, 2023 Five days. Fifteen events. One community.
FESTIVAL UNBOUND 2023 SPONSORS
PLATINUM SPONSORS
Community Action Lehigh Valley
National Endowment for the Arts
GOLD SPONSORS
Air Products
Dexter F. & Dorothy H. Baker Foundation
Verna O. Canova Foundation
SILVER SPONSORS
Amaranth Foundation
Beall Fowler
Lehigh Conference of Churches
Lehigh Valley Community Foundation
Pennsylvania Council on the Arts
PPL
SWBR Marketing & Media
WDIY 88.1 FM, Lehigh Valley Public Radio
BRONZE SPONSORS
Anonymous
Elaine & Mike Ackerman
B. Braun
Highmark Corporate Giving
Ruth & Charles Marcon
Martin Guitar Charitable Foundation
Sharon & Ron Yoshida
COPPER SPONSORS
Astound Broadband
Crayola, LLC
Embassy Bank
Greater Lehigh Valley Chamber of Commerce Foundation
IceHouse Performing Arts Collaborative
Margot Hillman & Steven Kraft
Lehigh University College of Health
Lehigh Valley with Love
Working Dog Press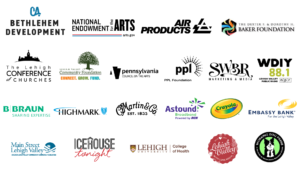 [Image description: A dark haired Latina woman smiles warmly at her dance partner, a man in a red flannel shirt, while he looks behind them at the band playing vibrant music. Providing a backdrop to the band is a black curtain festooned with flags from various Latin American and Hispanic countries.]