ABOUT
OUR HISTORY
It all started in the mid-1970's…
Touchstone's founding members were part of a series of improvisational bilingual street theatre troupes made up of professional artists, university students, local teachers and teens. These troupes brought an immediate and intimate form of theatre to area neighborhoods and parks in order to acknowledge, engage and celebrate low-income Anglo and Latino populations.
In 1981, Touchstone founders Bill and Bridget George and Lorraine Zeller decided to build a resident professional ensemble that would be charged with creating original movement-based theatre. Their artistic philosophy was initially drawn from John Pearson's improvisational street theatre troupe at Lehigh University, and then developed during the tenure of the People's Theatre Company, founded by Bill and Bridget George, Barbara Pearson, and Ricardo Viera. The newly founded Touchstone was a professional touring mime troupe creating and performing mostly non-verbal pieces and as with improvisational street theatre troupes, the actors generated the scripts.
The company strove to reach audiences of all ages and cultural backgrounds in diverse settings, using the universal language of gesture and image rather than words. Set, costumes and lighting were simple and portable. The unencumbered performance of the actor was considered to be the highest production value. The company trained in movement and dance and taught theatre workshops and residencies in schools, prisons and recreational facilities. They developed and rehearsed new work in the founders' backyard garage, and toured to traditional audiences in theatre spaces as well as new audiences in non-theatre settings regionally, nationally and internationally.
In 1987, our board and company raised community support to renovate an abandoned 19th century firehouse into an intimate 72-seat home theatre still rooted on Bethlehem's multi-ethnic, multi-lingual South Side where the founders lived and performed. With our own space, Touchstone evolved into a regional theatre company producing and presenting a subscription season of original plays for all ages. The heart of our artistic process has continued to be the ensemble's involvement in the entire process of theatre production, from playwriting to performing.
In addition to a full season of producing and presenting original, ensemble-based productions, touring theatre locally and abroad, and teaching arts-in-education residencies in area schools and onsite at the theatre, Touchstone also fosters intercultural and international collaborations through community-based projects.
The original adaptation of Greek myths in Deadalus in the Belly of the Beast by Marco Antonia de la Parra with Teatro Memoria of Santiago, Chile, and dramaturg Joanne Potlitzer, 1992. This bilingual production toured the eastern U.S. and was performed at the Theatre of Nations Festival in Santiago.
Theatre of Creation: A Festival Celebrating the Work of Jacques Lecoq and his International School of Theatre, 1994. A collaboration with Lehigh University which resulted in a two-week festival, including classes taught by the late Jacques Lecoq and internationally renowned Lecoq trained artists and theatre companies. (To learn more about Jacques Lecoq, please visit www.ecole-jacqueslecoq.com)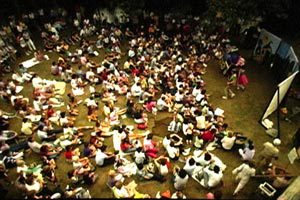 The Steel Festival: The Art of an Industry, a multi-arts festival celebrating Bethlehem's heritage of steel making with Cornerstone Theatre, musician Ysaye Barnwell of Sweet Honey in the Rock, storyteller Jay O'Callahan, and singer-songwriter Bob Franke, 1999. This community celebration, which received national media attention, included the performance of Steelbound in the original Bethlehem Iron Works Foundry.
The Don Quixote Project, a two year multi-faceted project inspired by the diverse South Side Bethlehem neighborhood and the desire to bridge the gap between the Anglo and Latino cultures, the adaptation, Don Quixote of Bethlehem, was born. The traveling performance or "theatricade" involved over 100 community participants and moved from Lehigh University through the streets of the South Side ending at St. Michael's Cemetery. This project involved the following community partners: Bethlehem Area Public Library, Bethlehem Area School District, City of Bethlehem, Council of Spanish Speaking Organizations, Holy Infancy Church, Lehigh University Art Galleries, Mock Turtle Marionette Theatre, Seniors Centers of Bethlehem, and South Bethlehem Neighborhood Center. Check out a scene from the show here.
The Lehigh Valley Black African Heritage History Project – In collaboration with Muhlenberg College, Lehigh County Senior Center, the Lehigh County Historical Society, Kutztown University, the Northampton County Historical and Genealogical Society, Touchstone collected over 50 oral histories from the Lehigh Valley's oldest African American citizens and held 14 public story and song gatherings throughout the Lehigh Valley. These histories were archived and used, along with the material collected at the story and song gatherings, to produce an original play that gave voice to the experience of Lehigh Valley African Americans over the last one hundred years. This play, Another River Flows – stories, songs and a celebration of the Lehigh Valley Black Experience, performed in all three cities and was cast almost entirely by community actors. Click here to read a brief history of the project. Check out some video footage of this show on our youtube page.
A Resting Place – Produced in conjunction with Moravian College, and in commemoration of the 150th anniversary of the American Civil War, this original, community-based play, written by Alison Carey, playwright of Touchstone's Steelbound, draws on the stories of individuals who lived and died in Bethlehem during the years of the War Between the States. The show is based on two years of research about those who lived and died in Bethlehem during that national crisis. More than 100 actors and support crew presented the play five times in different outdoor locations on Bethlehem's North and South sides, over the three days in April of 2012 – a gift to the community. The script was developed around Dan Rice, a traveling performer who was known for his wit and humor in the mid-1800s. He entertained people in both the North and South, changing his punch lines accordingly, and performed in Bethlehem during the Civil War with his traveling circus. Check out the process here.
Journey from the East – This two-year project explored both the recent and historical influx of Chinese population to the Lehigh Valley. The first year of the project produced Journey: Dream of the Red Pavilion, focused around stories gathered from local Chinese families, as well as stories of the first Chinese Lehigh students. Part local history, part social commentary, and part fanciful dreamscrape, Dream of the Red Pavilion investigated the history of Chinese immigration in the Lehigh Valley and the community's continuing reaction to "the other." The second year of the project produced Journey from the East, produced in partnership with Moravian College, co-written by Bill George and Christopher Shorr. The play examined themes of national identity and attitude by exploring two different cultural mythologies: for America, the mythic Old West and the cowboy, and for China, the epic novel Journey to the West and the Monkey King. Read more on the project blog.
Through the art of theatre we continue to craft opportunities for people to build relationships, explore new and old ideas and nurture each individual's ability to play and create.
Read about Touchstone in two books: Jan Cohen Cruz's Local Acts: Community-Based Performance in the United States, Rutgers University Press, and Ensemble Works, Edited by Ferdinand Lewis, TCG Publications.