YOU HAVE QUESTIONS. TOUCHSTONE HAS ANSWERS.
You ve landed here for a reason. Maybe you ve come face to face with a space creature. Maybe you ve stumbled upon a piece of intergalactic alien wreckage. Maybe you ve seen strange symbols following you across the internet.
We don t want you to lose any more sleep over this. You ve passed the test by finding this hidden page. You have been chosen.
Here s all the information you need to know
:
First, THE ALIENS ARE FRIENDLY!
Second, they crashed landed here in Bethlehem, and our community rallied together to rebuild their spaceship and send them home.
While they were here, they were invited by Touchstone Theatre to partake in our annual five-day arts event, Festival UnBound, that took place from September 27 to October 1, 2023.
STILL CURIOUS?
Here is a lovely little message from our Intergalactic Friends!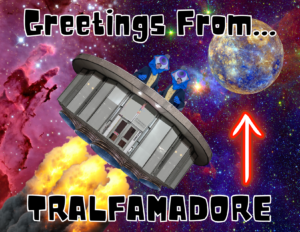 SPREAD THE NEWS
Share this info with any other true believer out there!
More questions? Want more info? Read on, peruse our website, or send an email to touchstone@touchstone.org. Perhaps you will discover even more otherworldly secrets
WHAT IS FESTIVAL UNBOUND?
Five days. Fifteen events. One community.
Touchstone's 5th annual Festival UnBound community arts event promises to be out of this world! Wondering what this year s Festival will look like? Here s the scoop:
Festival UnBound (September 27 – October 1): Five days of art, music, theatre, and dance events, workshops, and performances for all will take place at Touchstone s outdoor Barrio Stage, the Charles A. Brown IceHouse, and other venues all over Bethlehem. See the full schedule here.
Hidden Gem Pre-Festival Events: Pre-Festival pop-up performances and events will take place in special spots throughout Bethlehem during the entire month of September (check the website for dates/times/secret locations!)
Get ready for the unexpected combination of zebras, sparkles, donuts, and housing policy in The Most Beautiful Home Maybe, appreciate the Southside of Bethlehem in a way you ve never experienced it before in Change-Spotting, and don t miss our Festival UnBound Block Party featuring a mural unveiling, original punk and indie music from the Lehigh Valley, and your favorite local LVAC wrestlers signing autographs!
From intergalactic guests to thought-provoking performances to finding the hidden gems of where we live, this year s Festival UnBound brings you more of what Touchstone is known best for: engaging, original, theatrical experiences that welcome our entire community in.
WHAT IS TOUCHSTONE?
Since 1981, Touchstone Theatre s professional ensemble of artists has pursued our mission to create, present, and tour original theatrical work; foster community through artistic collaboration; and cultivate an awareness and appreciation of the performing arts across the Lehigh Valley region and beyond.
As an ensemble theatre rooted in Bethlehem s Southside, we are often inspired by our surroundings. We experienced the repercussions of Bethlehem Steel closing and Steelbound was born. We enjoyed the beauty of Bethlehem at Christmastime and Christmas City Follies took life. We witnessed how the arts can transform a young person and the spark for Young Playwrights Lab was ignited. We continue to live and work in this community inspired by and responding to its history, the changing landscapes, and most importantly, the people.
With a three-pronged approach of Original Productions, Community Projects, and Arts Education, we value the act of visioning the future, through art, together. We believe in creating art that celebrates, provokes, challenges, and above all, transforms. Festival UnBound is our most ambitious community undertaking, and we re so glad to have you along for the ride.