FESTIVAL UNBOUND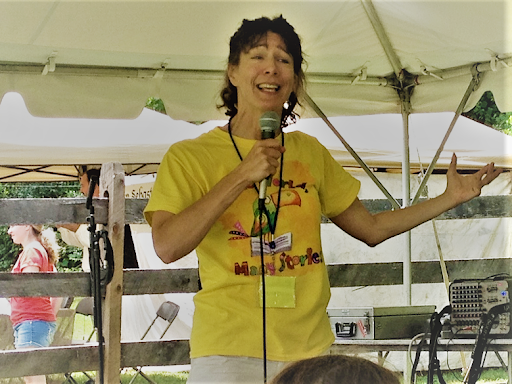 WORKSHOP: Story Soup for Kids
---
SATURDAY, SEPT 30th @ 11AM - Learn how to be your own storyteller in this fun, interactive workshop that explores Festival UnBound themes of home, community, and neighborhood.
Saturday, Sept 30th - 11am-12noon
Youth Services Meeting Room
Bethlehem Area Public Library
This event is FREE to attend but we encourage you to make a reservation due to limited spots.
RESERVE
---
People have been telling stories and bringing them to life in different ways for a very long time, using tools like facial expression, changes in tone or sound of voice, music, and movement. All of these different ways help us to visualize the story by using our imagination. Creating a story is loads of fun. In my Story Soup workshop, you ll learn the pieces needed to build a story. We'll start off with me telling a tale. After that, we will create our own story, by using the building blocks needed to shape a story. This will be a highly interactive workshop with movement, poetry, song and craft." – Storyteller Ingrid Bohn
As an Interactive Storytelling Performance Artist, Ingrid Bohn engages audiences of all ages through story, song, dance, and poetry. Mrs. Bohn s portrayal of the characters personalities aid in understanding the beauty of all cultures. Role playing is encouraged by way of lighthearted and playful audience participation. Ingrid firmly believes interactive storytelling enriches a child s life by encouraging self-confidence/esteem, community through cooperation, and problem solving through imagination.
WHAT TO EXPECT
All are welcome at this event that was created with children from 2nd-5th grade in mind.
VENUE: Upstairs in the Youth Services Meeting Room at the Bethlehem Area Public Library, Main Branch – 11 W Church St, Bethlehem, PA 18018
RUN TIME: 1 hour.
PARKING: Please visit this link for parking guidance from BAPL s website to the Main Library.
ACCESSIBILITY INFORMATION: The Bethlehem Area Public Library is wheelchair accessible. Touchstone strives to create an environment where all members of our community, of all abilities, feel welcome. Please contact (610) 867-1689 or via email at touchstone@touchstone.org to request accessibility accommodations in advance.
AFTER THE WORKSHOP: We recommend dropping by Venture X (306 South New St.) between 12-2pm to experience Alexander Khimushin s The World In Faces photography exhibit, featured at the United Nations in Geneva, UNESCO Paris, and the Council Of Europe in Strasbourg. More info here!
[Image description: A woman stands under a white plastic tent roof, she has a microphone in her hand and is in the midst of telling a story. She wears a yellow shirt and white pants. In the background is a wooden fence, and some audio equipment.]