FESTIVAL UNBOUND
WORKSHOP: Women's Dance from Around the World
---
SATURDAY, SEPT 30 @ 10AM - Dance your way around the world in this workshop sampling traditional women's dances from across a broad range of cultures.
Saturday, Sept 30 - 10am-12noon
Dance Studio, Room #531
Northampton Community College
Fowler Family Southside Center
This event is FREE to attend but we encourage you to make a reservation due to limited spots.
RESERVE
---
Jump in to this fun, no-experience-needed dance workshop and learn three dances taught by three different women from across three cultures – Ukrainian, Middle Eastern, and Mexican.
Workshop Overview
Prof. Paula Duda Hoviak of Kazka Ensemble
My dance is Ivana Kupala (Summer Solstice). It is slow and easy; no restrictions on age or ability. Background: Ivana Kupala is an ancient ritual dating back to pagan times. It marks the summer solstice or the battle between light and dark. Ancient people feared that the darkness would win over the light.
In modern time, the holiday has been Christianized in conjunction with the Feast of the Nativity of John the Baptist (hence the name Ivana Kupala). Traditionally, young girls would make wreaths with candles and float the wreaths in the streams and rivers. The young man who found your wreath would be your future husband. It is a time marked by songs and games and bonfires. In the Christian tradition, the streams and rivers are blessed and in fact, no one should swim in these bodies of water until after this feast day.
Paula A. Duda Holoviak, Ph.D. is co-director of the Kazka Ukrainian Folk Ensemble. I have over 45 years of experience teaching Ukrainian folk dance. My dance background includes classical ballet training in addition to apprenticeships in the traditional art of folk dance with Master Artist Andrij Dobriansky of NYC. Professionally, I am a professor of political science in the Department of Philosophy and Government at Kutztown University for the past 30 years.
Tahya
Experience movements from the splendidly rich cultures of Northern Africa and countries throughout the Middle and Far East steeped in women s traditions dating back to antiquity.
Tahya is a woman of central European and Irish descent who upon hearing the intoxicating melodies and hypnotic rhythms of Egyptian music found herself swept away. With over forty years experience as a performer & event producer with internationally renowned master dancers and drummers, Tahya is also an ACE-certified instructor sharing these traditions internationally and at venues such as Northampton Community College, Lehigh Valley Health Network Healthy, Cancer Support Community of the Greater Lehigh Valley, community centers and yoga studios. Feel revitalized, uplifted, inspired and connected to the beauty within come home to yourself.
For more information, please visit: www.Tahya.com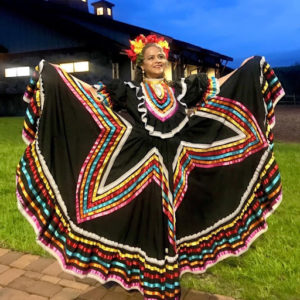 Leticia Gutierrez
Traditional Mexican Danza Folklorico – Movements that connect us to Mexican culture, history and traditions. From the indigenous roots of the Mexica/Azteca Danza that connect us to nature, the four elements and four directions to our inner spiritual journey.
I am inspired by my indigenous roots, music, traditions, culture, MotherEarth/Pachamama ceremonies, healing energies and sacred medicine chants. Born in Chicago, IL and raised in Mexico City. My father Candido Gutierrez was where my musical foundation started. He taught me guitar and to sing traditional Mexican music. In Mexico I continued my studies in traditional Mexican dance at TUM University and Maestro Heriberto Aceves and Maestra Carmen Ayala s music academy ~ Promotora Face.
In the USA, I ve directed El Grupo Mexico of the Lehigh Valley, a folklore dance group, for over 30 years. We ve performed at Zoellner, Philadelphia Art Museum, Moravian College, Lehigh University, Muhlenberg Collage, Musikfest, Bethlehem Hispanic Conciliar, and other cultural events. I feel honored to be a part of creating and organizing the celebration of Our Lady of Guadalupe Mass at Holy Infancy Church in Bethlehem, PA for the past 20 years.
As a musician, I have been part of many worldwide music bands as a guitarist, frame drummer, percussionist and singer. I am also a Mexica ceremonial singer/dancer/presenter, Limpias (clearing/cleanings smudges), end of life doula, certified Reiki master, doTERRA EO Wellness Advocate – AromaTouch Technique Certified.
WHAT TO EXPECT
Please dress comfortably to move, and wear soft soled shoes – dance shoes, sketchers, etc.!
AGE RESTRICTIONS: This workshop is for ages 10 and up.
VENUE: Dance Studio Room #531 at Northampton Community College's Fowler Family Southside Center – 511 E 3rd St, Bethlehem PA 18015
RUN TIME: 2 hours.
PARKING: Please visit this link for parking guidance to NCC s nearby lots. There is also nearby street or lot parking (here s a link to more Bethlehem parking options).
ACCESSIBILITY INFORMATION: Touchstone strives to create an environment where all members of our community, of all abilities, feel welcome. Please contact (610) 867-1689 or via email at touchstone@touchstone.org to request accessibility accommodations in advance.
AFTER THE WORKSHOP: We recommend dropping by Venture X (306 South New St.) between 12-2pm to experience Alexander Khimushin s The World In Faces photography exhibit, featured at the United Nations in Geneva, UNESCO Paris, and the Council Of Europe in Strasbourg. More info here!
[Image description: A group of women are in the middle of a dance, their arms thrown up in the air in exaltation. They are dressed in traditional Ukrainian attire – white shirts with intricate patterns stitched in, flower crowns, and blue and yellow ribbons. Behind them we see the white walls of the room they dance in, as well as some hanging string lights and what appears to be a Ukrainian flag.]